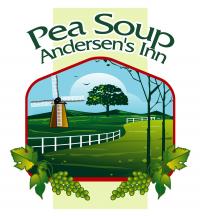 Member Details
Pea Soup Andersen's Inn
51 E. Hwy 246
Buellton, CA 93427
Phone: (805)688-3216
Toll Free: (800)732-7687
FAX: (805)688-9767

Business Type: Accommodations
Member: Terry Nielsen
Email: reservations@peasoupandersens.com
Website: http://www.peasoupandersens.com

Business Description
Conveniently located along the central coast of California, this Buellton area hotel proudly offers 97 well-appointed guest rooms, each featuring cable satellite television and high-speed Internet access. Enjoy an array of amenities at this Santa Barbara County hotel including an outdoor heated swimming pool, a hot tub, putting green, business services and meeting facilities accommodating up to 30 guests. The hotel offers wine tour packages. The local restaurant, Pea Soup Andersen's is located right next door.
Golf enthusiasts staying at the Pea Soup Andersen's Inn will enjoy the convenient access to several local courses including Zaca Golf Course, Alisal River Golf Course and San Marcos Golf Course. Less than ten miles from the hotel, guests can visit a variety of local attractions including the Santa Ines Mission, Santa Ynez western town and Los Olivos. Spend an afternoon wandering through Solvang, a Danish community only three miles away or take a tour of the local wine country featuring over 30 wineries. The Buellton area is also home to several cycling events throughout the year.
Member to Member Discount: 10% off Week-end Rack Rate Friday, Saturday and special holiday and event Dates 15% off Week-day Rack Rate Sunday thru Thursday
For more information on this Member to Member discount please contact Terry Nielsen.
Similar Businesses