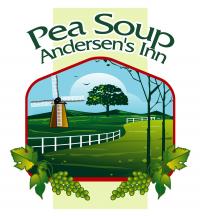 Member Details
Pea Soup Andersen's Inn
51 E. Hwy 246
Buellton, CA 93427
Phone: (805)688-3216
Toll Free: (800)732-7687
FAX: (805)688-9767

Business Type: Accommodations:Hotels
Member: Terry Nielsen
Email: reservations@peasoupandersens.com
Website: http://www.peasoupandersens.com

Business Description
This property offers a gazebo situated in the center of the hotel that may accommodate up to 20 people. Used for daily continental breakfast, this is also used to serve small group gatherings and is conveniently located on the property. This bright, cheery gazebo is great for business meetings, reunions, and other small gatherings.
Member to Member Discount: 10% off Week-end Rack Rate Friday, Saturday and special holiday and event Dates 15% off Week-day Rack Rate Sunday thru Thursday
For more information on this Member to Member discount please contact Terry Nielsen.
Similar Businesses